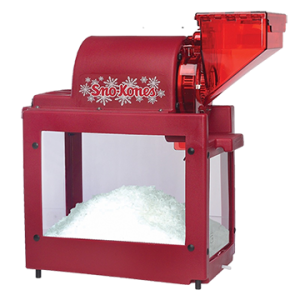 Perfect money-generator at a fundraiser event - this snow cone maker is capable of shaving 300 lbs of ice per hour. That much ice is capable of serving more than 600 people! A big advantage over us than competitors is that we supply most of your supplies! We also can provide attendant service to run the equipment at a small additional cost.
Imagine how much money you could generator in an hour from 600 servings? Perfect addition to your event!
Snow Cone Machine Specifications
The ice shaver is in High Impact Durable Cabinet
Machine shaves about 300 lbs. of ice an hour - that can serve more than 600 servings!
Compact Automatic Shaver
Easy Fill Hopper
Momentary Safety Switch
Band Blade performance on a Light Weight Durable Cabinet
Easy Carry Handles
Molded Plastic LLDPE Cabinet = High Impact Durable Cabinet
Interlocking Hopper Safety Switch
Includes: Sno-Kone Dipper and Drain Hose
1/4 HP Motor, Direct Drive – no belts, pulleys
Two Flavor Holders built in
Call us today or contact us online for this great snowcone machine rental! Ask about our great combo deals when renting more than one machine from us.